Microsoft has officially announced that Windows 11 is now available as a beta version for the first time. This beta version is showing some big changes to the long-standing operating system, including its first name change in six years.
If you haven't been keeping track of related news, it can probably get confusing with beta builds, launch dates, new features. Here is a compilation of all the key details you need to know about Windows 11.
Windows 11 Release Date
Microsoft has not announced an exact launch date is not out yet, it has revealed that Windows 11 will be out before the end of the year.
A new document from Microsoft itself hints that Windows 11 could be released at some point between October 2021 and November 2021, and OEMs(Original Equipment Manufacturer) have been instructed to submit their drivers by the third week of September.
This information is known through Microsoft's documentation on "Windows 11 version 21H2 hardware driver submissions", published on June 24.
The "hardware driver submissions" is a reference document Microsoft uses to give OEMs a deadline for driver submissions. This is done to avoid any the release of important driver updates that could cause issues after a big Windows update is Launched.
System Requirements for Windows 11
Basic requirements for installing Windows 11 on a PC are the following.
Processor 1 GHz or faster with 2 or more cores on a compatible 64-bit processor or System on a Chip (SoC)
Memory: 4 GB RAM or more
Storage:64 GB or larger storage device
System firmware: UEFI, Secure Boot capable
TPM: Trusted Platform Module version 2.0
Graphics card : DirectX 12 compatible graphics / WDDM 2.x
Display : >9-inch with HD Resolution (720p)
Internet connection: Microsoft account and internet connectivity required for setup for Windows 11 Home
Top new Features in Window 11
Windows 11 has come up with many cool interface changes including a new Start menu that looks more like an app launcher, more rounded corners, snap controls that allow to you pin a window to a spot in your screen (and snap groups), a new Widgets area, and an icon in the taskbar and a new Windows setup experience.
New Mac-like User Interface
The main design change includes a new center-aligned Taskbar and Start button. The Start menu also shows you your most recently accessed files.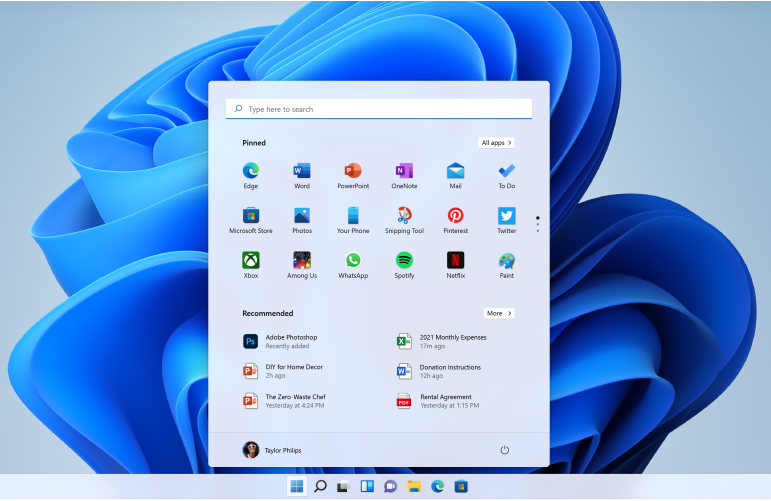 Many icons have been updated, too, giving everything a fresh look compared to Windows 10. However, in terms of functionality, it's not a huge change from Windows 10 – more an iteration.
New Widgets
The new Widgets bar – which you can resize – is essentially the replacement for the Start menu live tiles from Windows 10, helping personalized information such as relevant news stories to be delivered.
There are more rounded corners, along with widgets that include things such as calendar, weather, sports leaderboard. There's also an improved System Tray with a new split Notifications and Quick Actions User Interface.
Microsoft Teams integration
Microsoft Teams has been integrated into the taskbar. Now you can instantly connect through text, chat, voice, or video with all of your people close to you from your contacts.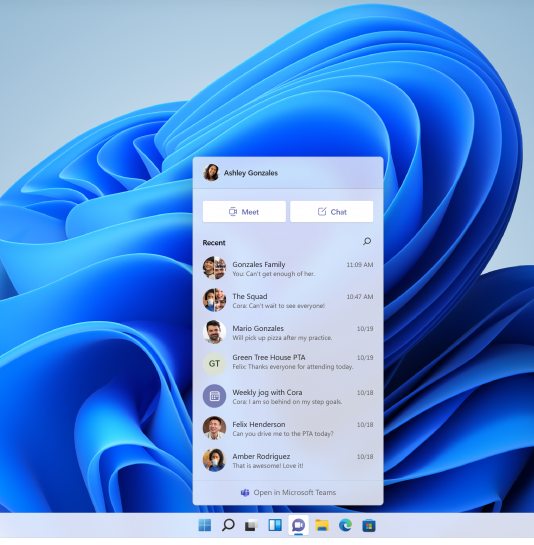 You'll be able to access Teams from Windows, Mac, Android, or iOS. If the person you're connecting to on the other end does not have a Teams app, you can still connect with them via two-way SMS.
Windows 11 Support for Android apps
Surprisingly, Microsoft Store for the first time allows you to use Android apps on your Windows PC. Starting later this year, people will be able to download them through the Amazon Appstore.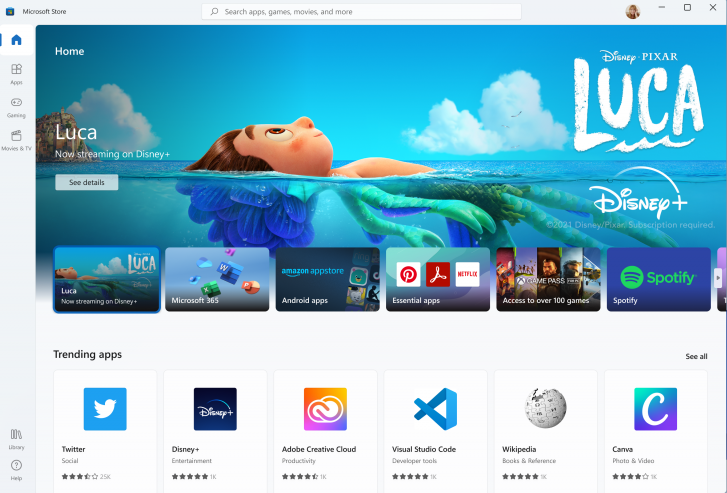 The company has also announced that it will add many leading first and third-party apps such as Visual Studio, Disney+, Adobe Creative Cloud, Zoom, TikTok, Khan Academy, Canva, and few native apps like Microsoft Teams, Visual Studio, and even Notepad and Paint to Microsoft Store on Windows 11.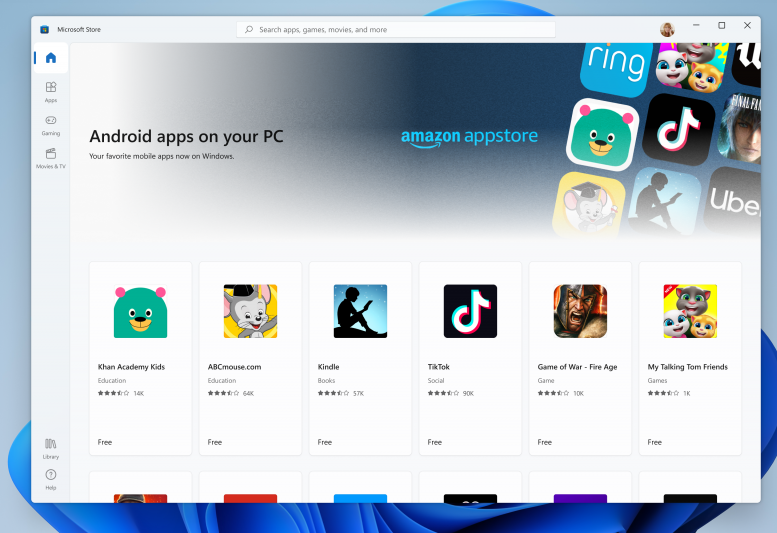 Improved Gaming with Xbox Tech
The new Windows 11 OS will bring many significant changes for PC gamers. DirectStorage is also there to making load time faster. Window 11 also has a built-in Xbox app allowing users to access "over 100 high-quality" games and stream titles through Xbox cloud gaming.
Better virtual desktop support
Windows 11 allows you to set up virtual support in a way that's very much similar to macOS, toggling between multiple desktops for personal, work, school, or gaming use.
Smoother transition on devices, and better multitasking
Laptop users that connect their computer to a separate monitor are all too familiar with the hassle that comes from managing all their windows. Once you disconnect the monitor, any windows on that monitor get resized and shuffled around, creating a mess on your desktop. Windows 11 ends this hassle. When you disconnect your laptop from a second monitor, any open windows on that screen will minimize but remember their place. When you connect to the screen back in, they'll pop right back to where they were before.
Improved touch, inking, and voice
Windows 11 have improved the experience for touch, more space between the icons in the taskbar to create bigger touch targets and subtle visual cues to make resizing and moving windows easier, as well as adding gestures.
Haptics has been enabled to make it easier to use your pen as well as allowing you to hear and feel the vibrations as you click through and edit or sketch. Voice typing has been enhanced. Windows 11 will automatically punctuate for you and will come with voice commands.