In this article you will get to know what web hosting is, what are different types of web hosting services are available today, and how your online business can benefit from web hosting services.
What is a web hosting service?
Websites are made of lots of different files (code, images, etc.). These files needs to be stored on special computers called webserver in order to be available for online viewing on World Wide Web. These web servers are owned by web hosting companies, who offers organizations and individual to buy or rent space on server to store their websites. Apart from storage space for website web hosting services also includes technologies and services needed for the website or webpage to be viewed in the Internet.
Here are list of some features that web hosting provider usually offers with their web hosting plans: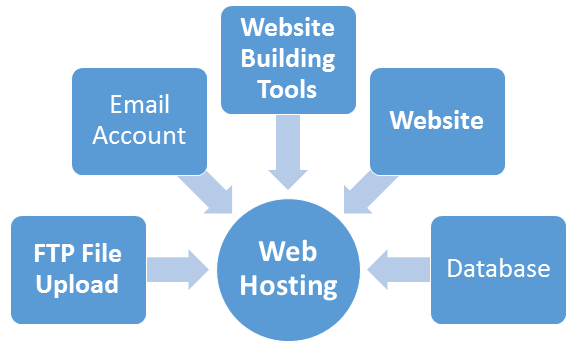 Email Accounts: Email Account features provided by the hosting company allows you to create domain email accounts (e.g yourname@yourwebsite.com).
FTP Access: FTP Access lets you download, upload, and modify your files on a web server. If you have built your website using your own coding files, you can upload these files from your local computer to a web server using FTP Access to allow your website to be available on the worldwide web.
WordPress Support: WordPress is a powerful blogging and website content management system, which provides you tools to create and manage websites. WordPress powers over 25% of websites on the internet. Most hosting providers do mentions if their plans are WordPress-compatible or not. The simple requirements for hosting your WordPress websites include PHP version 7 or greater; MySQL version 5.6 or greater in your webserver configuration.
Most hosting companies require that you own your domain in order to host with them. If you do not have a domain, the hosting companies will help you purchase one.
What are different types of Web hosting services?
Web hosting providers offers different types of web hosting services according to requirement and budget of their client. As a website owner before choosing your hosting service you have to consider requirements of website and also your budget. You need to be clear about whether your website require limited CPU and space from web server Or you want to quickly expand your website in near future? How much traffic is expected on your site? After considering your several needs you will be able to define your needs. You can now choose hosting services type which suits you requirements best.
Here are different types of hosting services:
Shared hosting: In a shared hosting environment, many websites share a single webserver. This hosting includes the sharing of the physical server and the software applications installed on the server. Shared hosting services are generally the most affordable option because cost and maintenance charges are shared by multiple clients. However, there are some downsides to this, such as you don't have full control over your server, and it's also slower. This is a popular option for launching small basic sites with static or fixed content like blogs, personal sites, small startups, and not appropriate for large-scale commercial projects.
Virtual Private Services hosting: VPS hosting creates a virtual environment that facilitates its client like a dedicated server, but within a shared hosting environment. VPS hosting gives you a greater level of control and flexibility, enhanced security, performance, and is a little more expensive than shared hosting. VPS hosting is a setup ideal for small businesses, e-commerce websites, and larger personal sites.
Dedicated hosting: Dedicated hosting allows a client to use the whole server exclusively. This hosting gives users total control over servers and the client gets greater performance and security. This also means an increase in cost because now clients have to bear the expenses of its security, maintenance, or any hardware upgrade by himself. Dedicated hosting is best suited for large enterprise websites with high traffic, where speed and security are very crucial.
Web Hosting Services not only allows your websites to post on the Internet but also makes it easy for you to manage your online business by providing different types of technical assistance. Hosting firms have in-house technicians who are responsible for your websites to keep up and running 24/7. Plus, if you face any technical issues like not being able to send and receive emails, renewal of domain name, upgrading your hosting, troubleshooting any technical problem, you can contact hosting providers in-house support people. A professional web hosting service saves your time and energy, ensures trouble free experience in managing your online business.