With the latest privacy policy in whats app, concerns over data privacy are growing among its users. In this article, we will get to know about the Signal app that has emerged as one of most popular alternative for secure chatting.
Elon Musk who has resently surpassed Jeff Bezos to become richest person of the world has asked his followers to switch from whatsapp to signal app.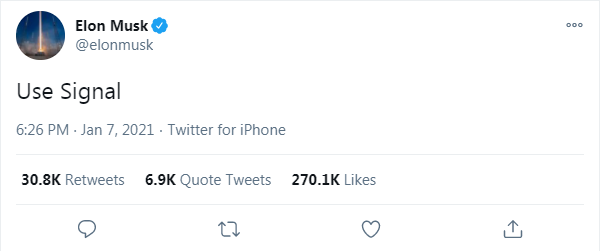 Can signal app really become a reliable alternative for secure chatting for WhatsApp users? Here is everything you need to know about the signal app:
The signal app was introduced by Signal Foundation in 2014 which was set up by former WhatsApp co-founder Brien Acton who left WhatsApp in 2017.
It provides end-to-end encryption security to your chats like WhatsApp.
It only collects user's account information, and some randomly generated information like authentication tokens, keys, push tokens, and other material that is necessary to establish calls and transmit messages.
It is available for Android, iPhone, iPad, Windows, Mac, and Linux.
The signal app is free to use and has similar features like WhatsApp.
However, it does not have the option to back up chats to Google Drive or iCloud.
It does not allow groups to add people automatically unless the individuals give their assent.